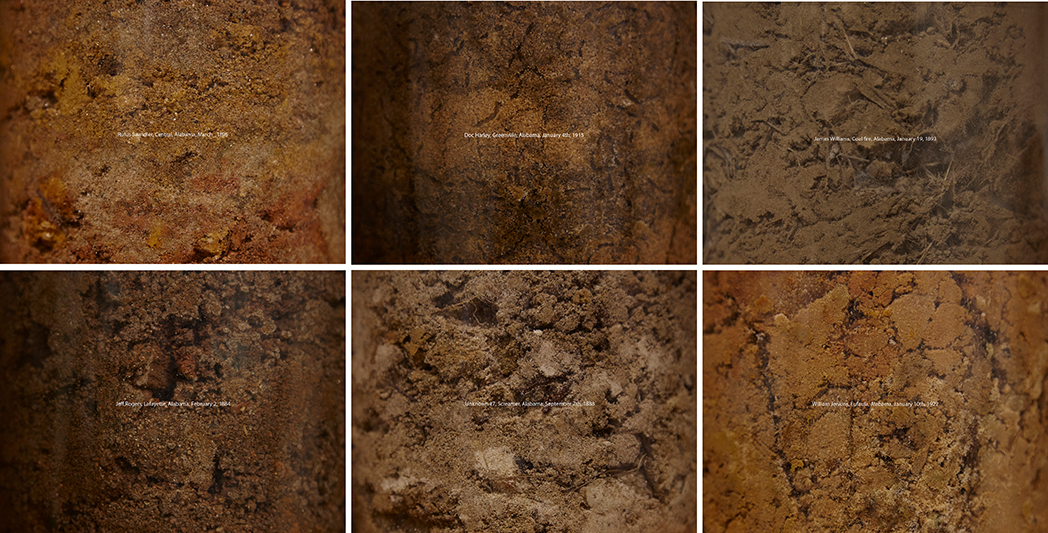 The Equal Justice Initiative Community Remembrance Project is a public acknowledgment of the hidden legacy of racial violence in America. It is a tool of healing, recognising that all communities suffer from trauma and damage from their differing relationships to a systematic violence intended to dehumanise and oppress. This initiative recognises this as a legacy carried forward onto the black community but further recognises a residual legacy of perpetrator and bystander guilt equally affecting the white community that contributes to the obstruction of any future progress towards a contemporary reconciliation. In this spirit, black and white communities are encouraged to address this previously unspoken shared history through the collection of soil in special named jars from the 1000's sites of the murders for the memorial museum in Montgomery, Alabama.
This typology of  6 soil samples taken at the the EJI offices in Montgomery, Alabama represent just a few of the many samples collected in preparation for installation in the National Memorial for Peace and Justice . The names of the victims with dates and locations as captions are embedded in the work. The variations of texture and color reflect the extent of the terror of lynching in America statistically and geographically, as well as metaphorically representing the complexity and uniqueness of every life ended.
The soil collection represents a form of literal, political and emotional reclamation. What was valueless is imbued with new powerful meaning. 'Blood and Soil' echoed as a divisive right-wing chant denying many an equal stake in the relationship to place and identity has been re-appropriated as a demand for the basic and equal right for all.
The Tale of Austin Callaway – Documentation of Exhibition at Coventry Cathedral
Blog: No Photography Allowed
Blog: The Colonial Gaze