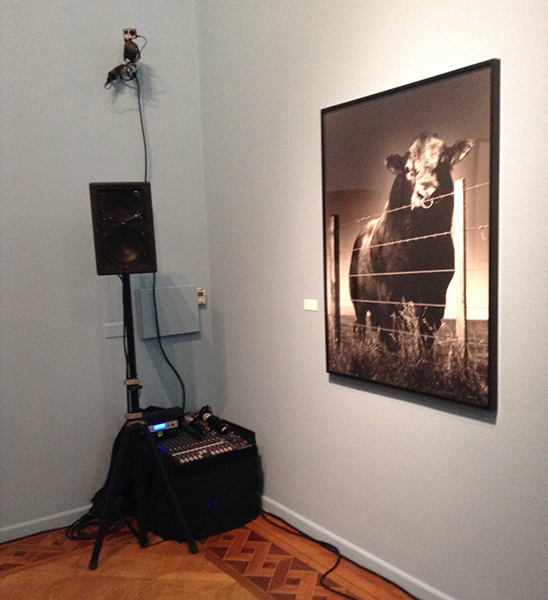 Helmut Newton – A Retrospective FOAM, Amsterdam 17 June – 4 September 2016
Reviewed for Hunger Magazine 
GUN FOR HIRE
I am at the retrospective of Helmut Newton's work at FOAM, Amsterdam. In the most dramatic gallery, the famous nude full length portraits tower over us. One image is a dark homage to Leni Riefenstahl's film 'Triumph of the Will' a salute to her hero Adolf Hitler and Newton's nemesis, a model with a spade poses starkly lit from the side, the shadow falling on the backdrop; fashion and fascism in perfect harmony. I can understand why he is considered a proponent of all future radical synergies of dark politics and commercialism in pretty clothes. His famous images of the models tearing at chicken carcusses are as visceral as they ever were and it is easy to identify the meme of fear, sex and death running through his work, when we learn that as a young Jewish boy he fled from Nazi Berlin in the 1930's.
Victims however can also become powerful survivors, anathemas to regimes allergic to 'difference'. Having been exposed to such trauma at an early age, I imagine Newton was always destined to celebrate conventional society with ambivalent cynicism and his work when associated with his past supports my sense that all photography is autobiographical.
He was and still is lauded by the fashion houses as a genius, published worldwide, his brutal objectifications have been re-branded as a celebration and empowerment of women and this seems to have created a fascinating dilemma for the curators. In the corner of the hall plastered with giant naked women, the museum has placed a powerful image of a bull, a symbol of base animalistic aggression and desire. In his own mind he is the king of this paddock of cows to fuck, shattering the carefully staged mythology of the empowered female, reminding us that this entire exercise is a product for the male sexual ego. 
In another room Penelope Pitstop flees from her aggressive male persuer, terrified but of course beautiful. Our press release is at odds with this increasing wiff of misogyny and one is reminded of the expression 'the lady' protests too much' as I hear the words 'empowerment' and 'freedom from subjugation' too many times from the curator, ironically a woman. 
I feel I am not alone, in this room full of modern women, in seeing through the façade. Pull back the curtain and we see a group of middle class, middle aged men playing out their erotic fantasies of control, masterbating over the pages of Vogue.
To extend the sadomasochistic metaphor to Newton himself, he was indeed the 'master'. There is a sense that he was undoubtedly brilliant and charming, like a Machiavellian, sociopath "gun for hire".