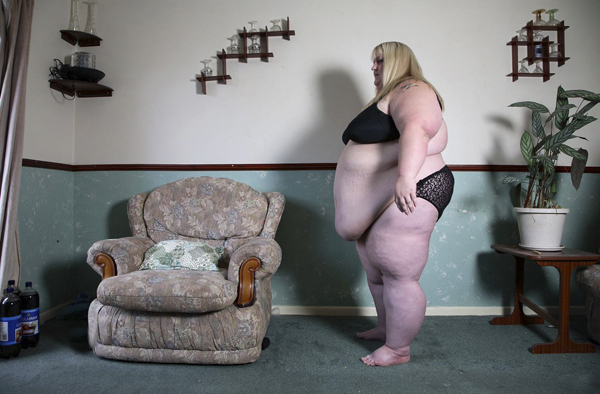 The Big Society 2007 – 2008
Prix de la photographie, Paris – GOLD AWARD Book Project 2011
IPA International Photographic Awards 2011
There are occasionally unique moments that allow access to the privacy of a life otherwise unobtainable. These subjects were all moments away from colonic bi-pass or stomach reduction surgery and at the time of being photographed, detached from their old lives and bodies; they were looking forward to a new life offered by the potential salvation of surgery. This project was edited from a series of 'before' and 'after' shots and I have chosen to present the 'before' only. The subject Neil (Man living with mother (deceased)), to whom I have dedicated the book, had already suffered 3 heart attacks at thirty years old; he was barely able to stand for longer than 10 seconds at a time. He had to make a decision between continuing without surgery and dying or risk death during surgery. He decided to go ahead with the surgery and died soon afterwards; a week after I met him.
We see Neil at his weakest and most vulnerable but he cannot be fairly defined in a single moment or in two dimensions. We are constantly passing through different emotional states and the camera only captures a moment in this flux. Here on show are some painful and intimate emotions shared; if we recognize these feelings, we must acknowledge the possibility of similar moments in our own futures. This is not the whole truth of a person's life.
These subjects were shot in 2007 – 2008 and in hindsight, appear as a by-product of a pre-crash society without boundaries; they were and still are despised allegories of our own perceived failings and the decadence of our 1st world society
This is not documentary; there is deliberate tension between social realism and a personal infection. Nor is it an Arbus-esq freak show or something to be mocked, these subjects exist as a part of ourselves, they are in this moment representing what we could be or are; they are physical representations of our own emotional possibility.