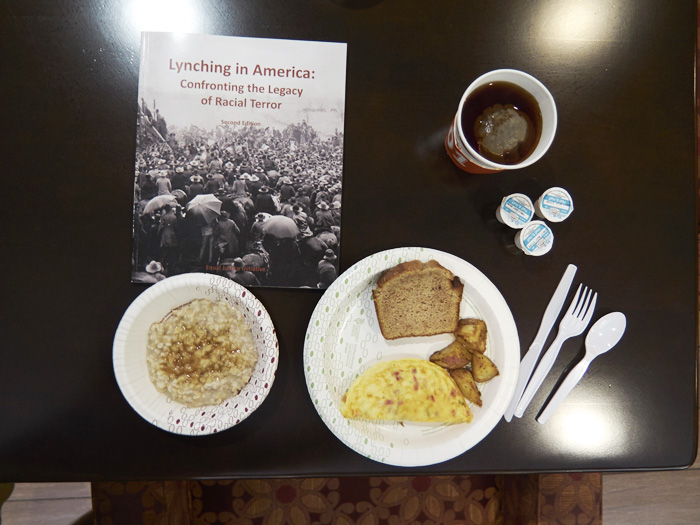 Breakfast in America © Richard Ansett 2017
Lynching in America
The Equal Justice Initiative Community Remembrance Project is a public acknowledgment of the hidden legacy of lynching in America. It is an essential tool of healing, recognising that all communities suffer from trauma and damage through a relationship to any systematic violence and dehumanization. In this spirit, communities are being encouraged to address this previously unspoken history through the collection of soil in special named jars from the 1000's sites of the murders for a planned memorial museum in Montgomery, Alabama in 2018.
77 years ago Austin Callaway, a 16-year-old African-American, was dragged out of a jail cell by a band of masked white men, shot five times in the head and left for dead in isolated woodland outside the town of LaGrange, Georgia.
This photographic project tackles the enormous subject of the history of lynching through the documentation of the collection of soil from one site for a memorial jar. In collaboration with the direct descendants of Austin Callaway as well as members of the black and white community, representatives of law enforcement and a descendant of the family that found Callaway's body, this project is meant as an allegory for the different legacies of damage that affect all of us.
The typology of 6 soil images taken at the Equal Justice Initiative offices in Montgomery, Alabama represent some of the many other victims with dates and locations as captions embedded in the work, broadening this exploration from the intimate moment in a secluded woodland to a bigger picture of the true extent statistically and geographically.
The soil itself as an image and the descents' interaction with the soil represents a form of literal, political and emotional reclamation. Soil as a divisive right-wing concept of place and identity has been re-appropriated here as a basic right of all to feel self-assured in our connection to our homeland.