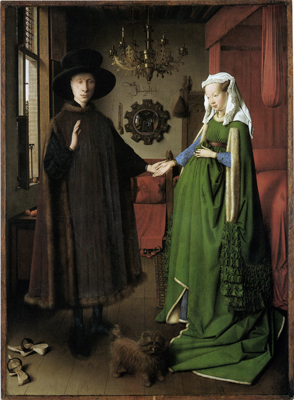 Arnolfini Marriage, Jan Van Eyke 1434
RON & ROGER
The London Partnership Register 2001
In 2001, a new scheme, the London Partnership Register, was introduced by the Greater London Authority.
To increase awareness of equality and civil rights, the Mayor of London, Ken Livingstone introduced the scheme that recognized the relationships of all couples regardless of sexual orientation. This led 4 years later to the Civil Partnerships Act in the British Parliament giving couples of the same gender equality in law and finally the 'Marriage (Same Sex Couples) Act 2013'.
In 2001, I was granted access to the first couples registering their relationship in the new scheme and asked them to participate in a photographic project to document their lives for an historic archive.
The expression of love and commitment regardless of gender is highly political. Prejudice of homosexual behavior is challenged in a new way, by the un-extraordinary expression of a serious relationship illustrated as equal to the heterosexual. It is a subtle change to previously more confrontational messages in the fight for equality; it says 'we are the same as you; our lives are as complicated and as mundane'.
Inspired by the new theory in 2001 that the'Arnolfini Portrait' by Jan Van Eyke, was a record of a clandestine marriage, the photographs echo the ' camera Obscura' composition centering the couples within their living spaces, posed as if at the wedding altar surrounded by the contemporary objects representative of the epoch.
It was originally published in the Observer Magazine,  nominated for the Citibank Prize and exhibited at the Candid Arts Trust; it was exhibited at the Tate Modern turbine hall for Londoner's Day in 2002. The image Chris and David was selected for the John Kobal Awards 2002 at the National Portrait Gallery, London, in 2010 'Couple with Delft Tea Set' showed at Art of Photography,  San Diego,  recognising the protest at legislation to ban same sex unions in the state of California on the 10th anniversary of the original project. In 2014 the series won 1st prize at the Moscow International Foto Awards which exhibited in Moscow, flouting the strict anti-gay propaganda laws.
Ron & Roger has since been acquired by the London School of Economics Hall Carpenter Archive and images from the series have published in Turkey & China.
I have been conscious that isolating these images in a gallery, as an expose of the private lives of 'homosexuals' may constitute a type of 'continued isolation' and documentary of a section of society rather than a multicultural shared experience and recognition that sexuality is only politically defined as a sub-group of society. The old politics of difference feels less relevant in society now integrated by its complexity.
I hope that the intensity and sincerity of the relationships exposed to the lens transcend prejudice.
"Inherent In his work is the use of historical allegory and his images make an exceptionally powerful archive of modern lives shaped by 21st century human rights." – Caroline Smith, Art Review/Attitude